Luxury Custom Designed Furniture & Interiors
A BESPOKE FURNITURE DESIGNER & MANUFACTURER IN MELBOURNE

A BESPOKE FURNITURE DESIGNER & MANUFACTURER IN MELBOURNE

Blending quality craftsmanship with beautiful bespoke furniture and window furnishing designs, this client is a leader in luxury living.
---
Blending quality craftsmanship with beautiful bespoke furniture and window furnishing designs, this client is a leader in luxury living.

With an exquisite eye for detail and a focus on creating luxurious products and experiences for their customers, our client is the premium destination for custom furniture and design in Melbourne. Their focus on quality craftsmanship, innovative design, and incredible customer experience sets them apart as leaders in their industry.
THE BRIEF / THE CLIENT'S VISION

THE BRIEF / THE CLIENT'S VISION

To create their dream brand image, shaped in modern minimalism, bespoke craftsmanship and luxury.
The client emphasised that it was important for customers to not just view products on a page, but to feel totally immersed in a beautiful sensory experience on the website. One that would evoke the texture, materials, and overall sense of finessed design that underpins the brand.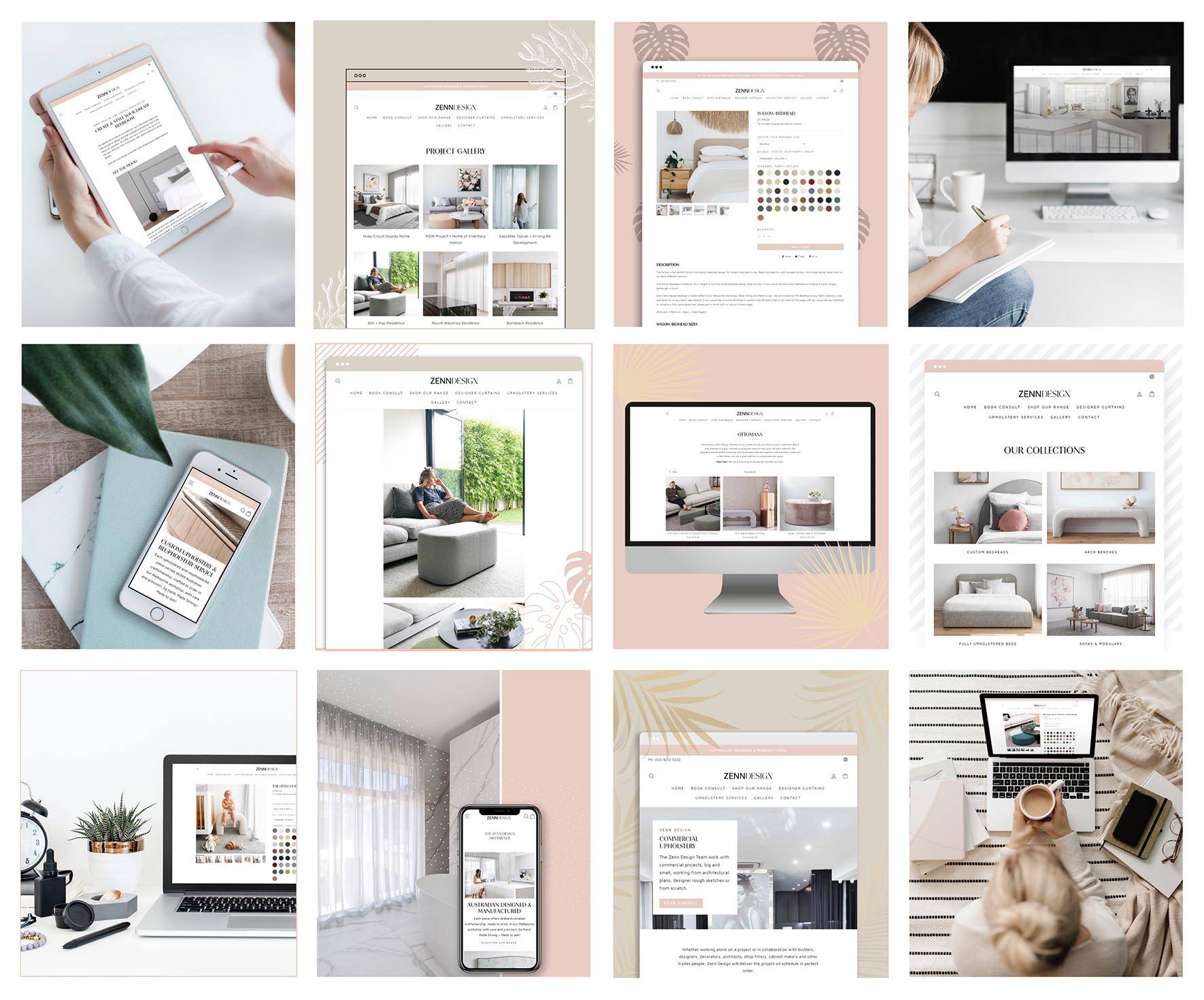 10+
Hours of Brand Strategy Consulting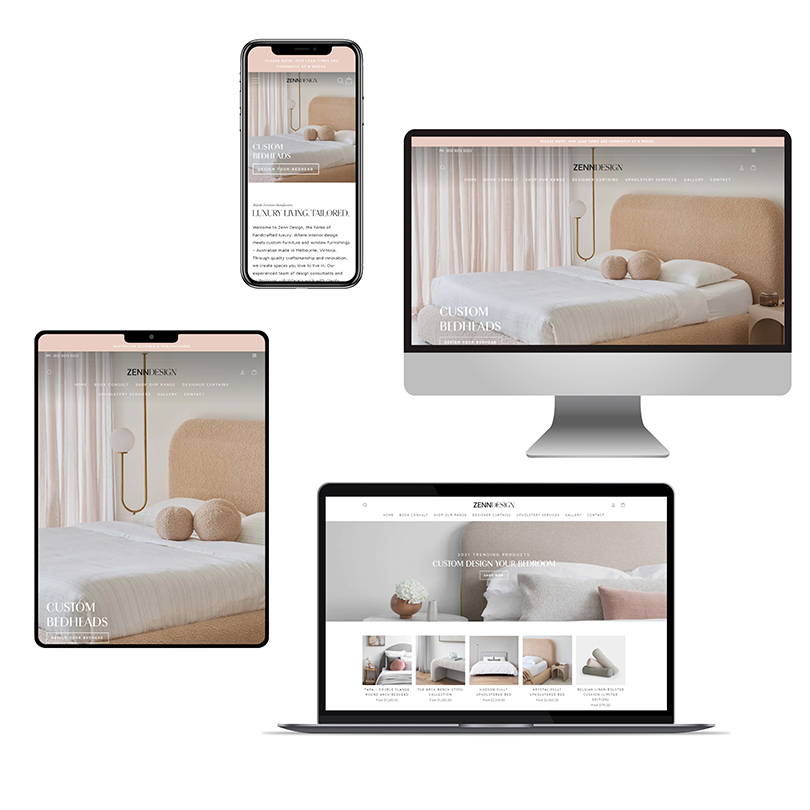 Our client was giving online shoppers the ability to create their own customised products, while providing a premium customer experience that feels akin to being in-store, with complete knowledge and control over the entire customisation and ordering process. Our client offers beautiful attention to detail, which you can see throughout their product range, and it was important to carry this through their website project, too.
No detail was left to chance, and that includes the fully optimised mobile website. We ensured a perfect user experience by developing a mobile-responsive design that displays beautifully across devices.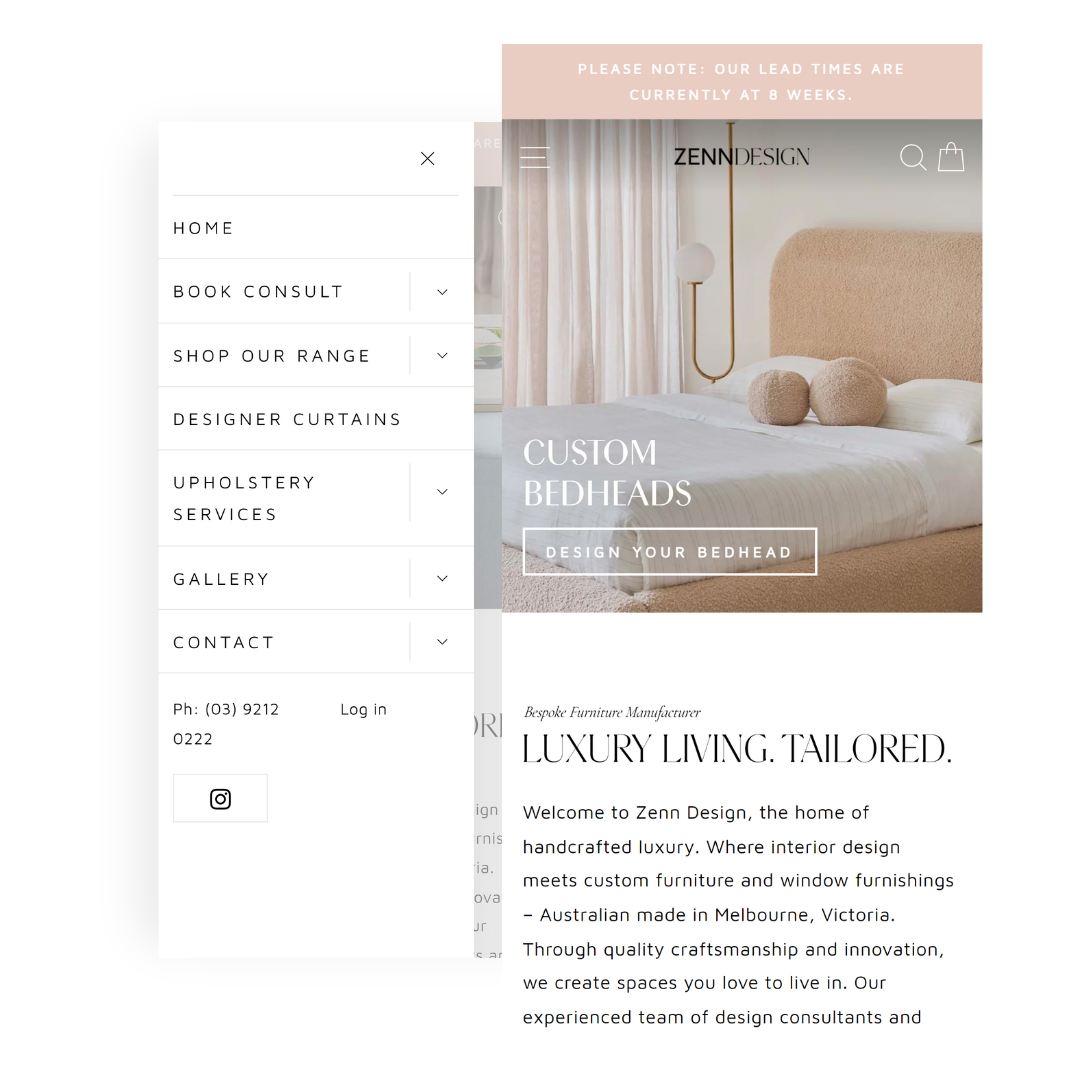 Starting with a high-level, in-depth brand strategy process, we worked closely with our client to design and develop a fully customised Shopify website that is both reflective of their brand and optimised for conversions.

By focusing on creating an unparalleled customer experience while simultaneously conveying the luxury quality and craftsmanship of their products, we built this project from the ground up with brand strategy, website design, coding development, custom plugin development, SEO strategy, and copywriting services.

Each step of this project was highly tailored and customised to suit the client. With over 160 hours spent on development and over 10 hours in brand strategy consulting sessions with our client, this website truly reflects the care and attention to detail that this brand deserves.
By focusing heavily on high-level brand strategy as the core underpinning of this project, we were able to build a luxurious website experience from the ground up. No detail was too small – after all, it's the details that truly sets luxury apart from the rest.
Services Used
Custom Shopify Website Package (design & development),
Brand Strategy,
Copywriting,
Custom Shopify app coding,
Adhoc Graphics & Consulting.
By designing with search engine ranking in mind, we implemented our exclusive SEO Best Practices Checklist throughout the project build. As a result, the website launched with a strong Google ranking score. This enabled the client to run paid ads with much less prep work and see faster results. Customers, too, quickly fell in love with the website, on average spending longer on the site and returning more often.

As a result, our client is solidly positioned as the leader in quality-focused luxurious custom furniture in their industry. This website sets them above and beyond, to offer a truly high-calibre experience that elevates, inspires, and converts.
INDUSTRY CATEGORY: RETAIL & CUSTOM MANUFACTURING
SEO DISCLAIMER: You may notice we refer frequently to 'our client' rather than the business name. This is so that we don't impact on the SEO of our clients (we always do our best to protect and ensure they rank well in search engines). What can we say, we love our clients! To find out who they are, simply watch the video above.
---