Custom Shutters & Blinds For Discerning Home Owners
A HERITAGE-FILLED BRAND BRINGING HAMPTONS LUXE TO HOMES

A HERITAGE-FILLED BRAND BRINGING HAMPTONS LUXE TO HOMES

Newport Custom Shutters have been manufacturing the finest interior and exterior shutters for over 30 years
---
As a premium manufacturer of interior and exterior shutters for homes from Brisbane to the Gold Coast, this client has been bringing Hamptons Luxe to South East Queensland since 1988.

Manufacturing quality products in their purpose-built, state-of-the-art on-site factory, our client is the go-to for stunning custom shutters. As a family-owned business for 30+ years, they are committed to providing only the highest quality to their customers, who range from hotels and celebrities to everyday families in Australia. They have worked with industry leaders in home renovation and interior design, and their products have been seen on the likes of The Block and Love It or List It.
THE BRIEF / THE CLIENT'S VISION

THE BRIEF / CLIENT'S VISION

This prestigious client required a new website that would reflect their heritage, commitment to quality, and excellent reputation. Their previous website had become outdated and struggled to rank well in search engines, and no longer reflected the high-end nature of their products.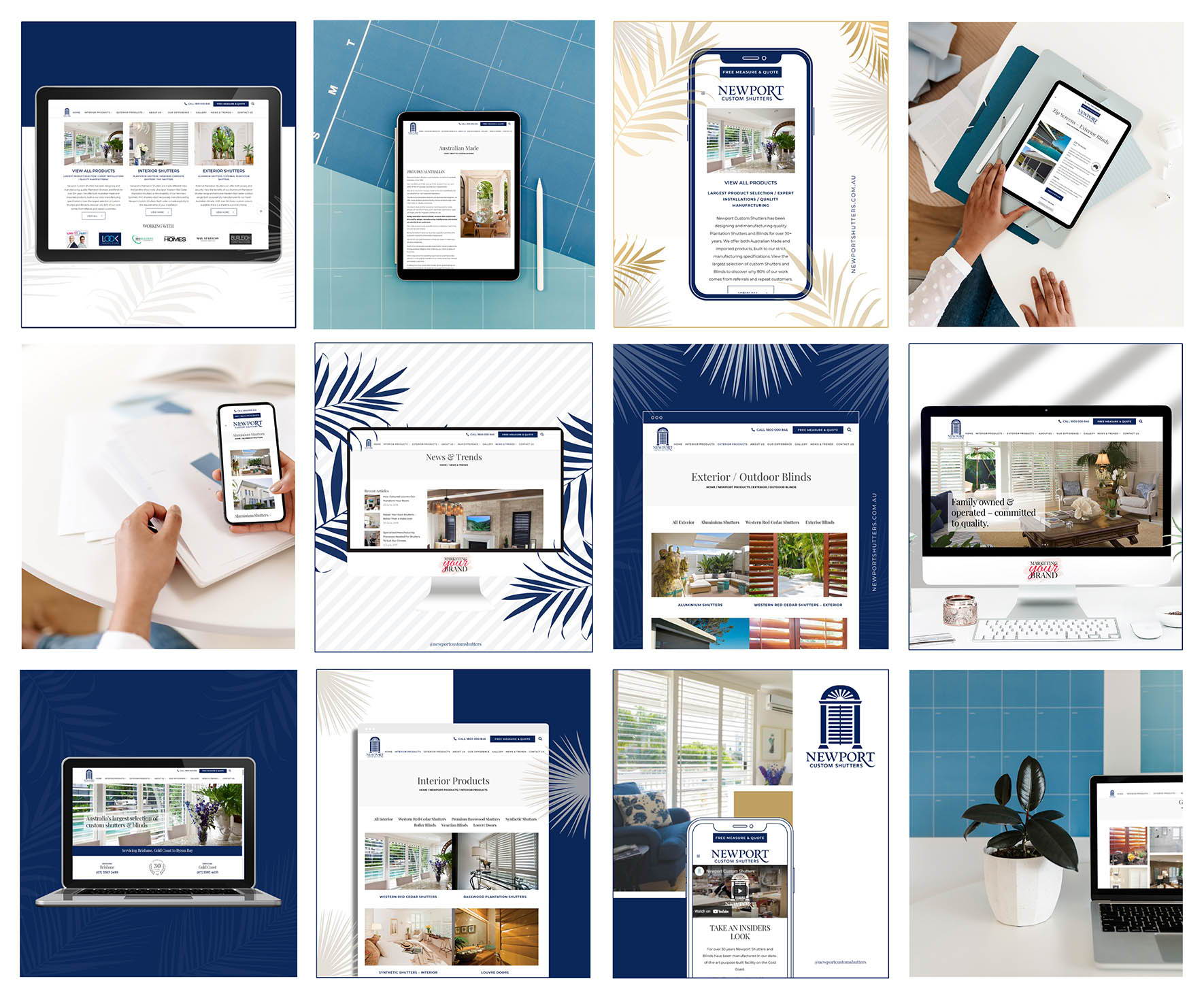 10+
Hours of Brand Strategy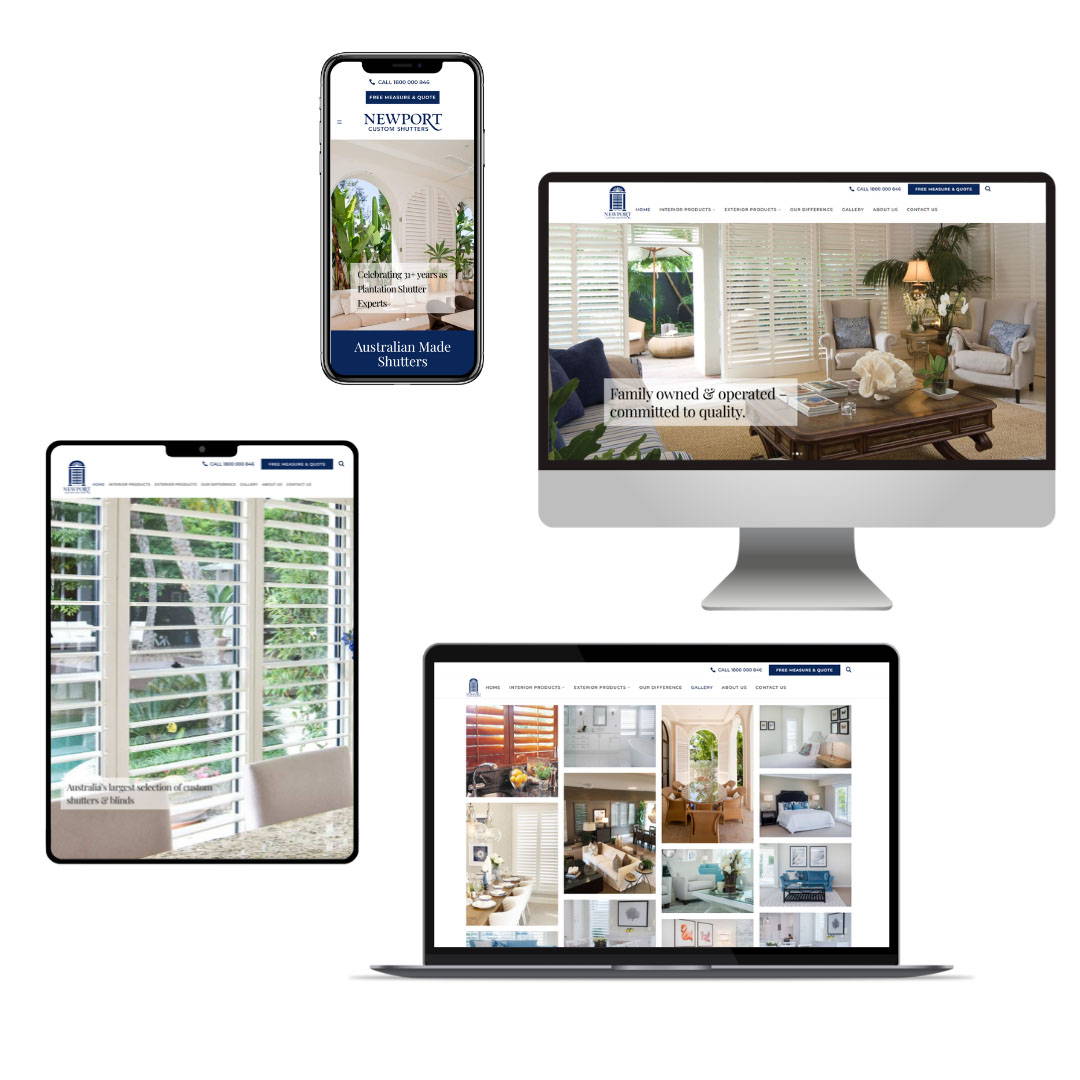 Apart from showing off the product range available, the client also wanted to communicate the key things that make them a true stand-out in the industry: from their 30+ year heritage as a family-owned, local business to their handmade products using quality materials in their purpose-built, state-of-the-art factory.

Additionally, this client knew their main customer base well, and recognised the need for design elements that were accessible, easy to read, and easy to navigate for the comfort of their visitors.
With a large percentage of visitors to the website using mobile devices, it was essential that the client's website was perfectly mobile-friendly and responsive. The resulting mobile site is easy to navigate and browse no matter what device you are using.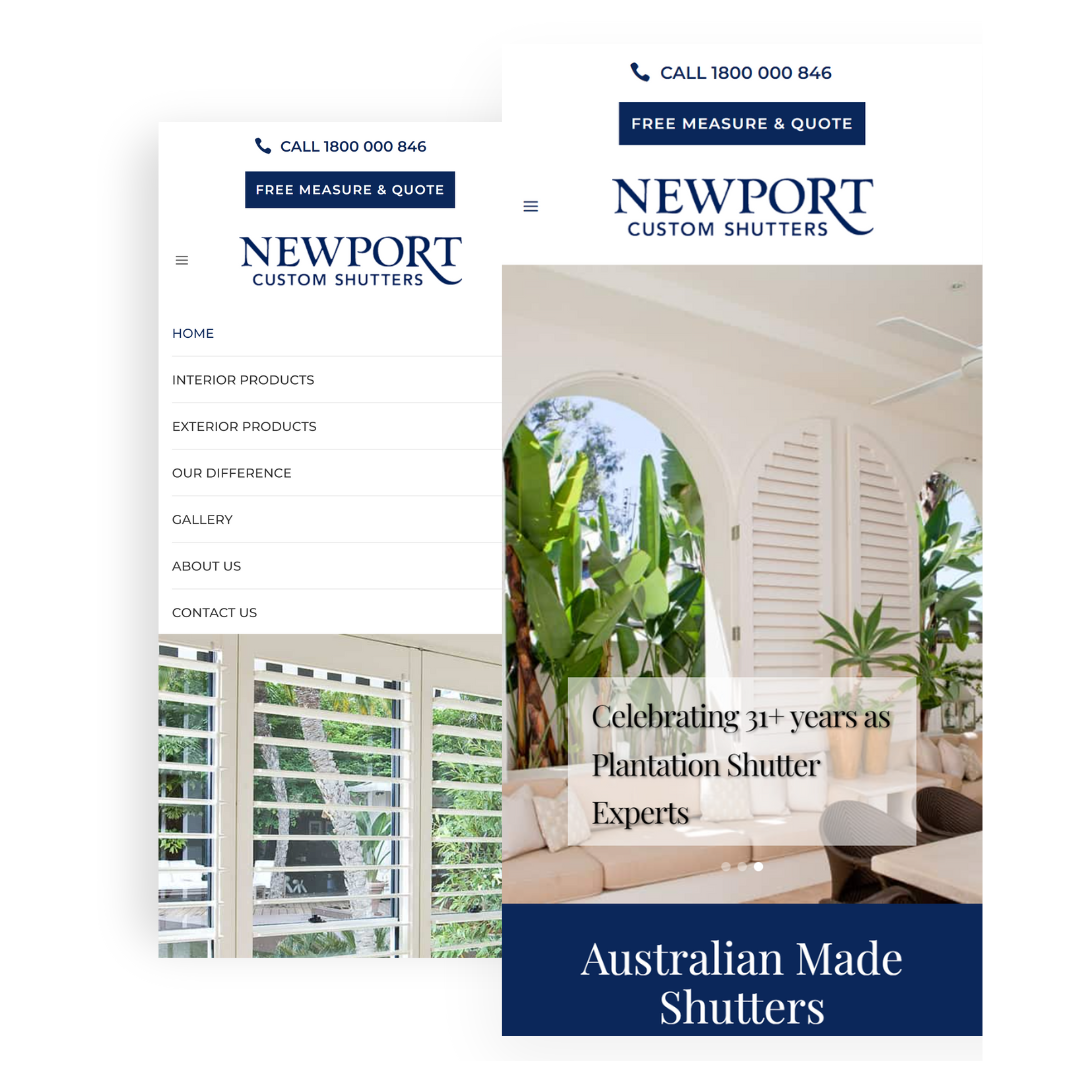 With a client this impressive, it's important to communicate their excellence, quality, and heritage through brand strategy, visual design, photography and videography, and copywriting.

We started with brand strategy to identify the client's key messages, along with the look and feel of the website. Moving into the website stage, we had to completely overhaul an outdated website that lacked a lot of information that a modern website requires so we created a full website content plan that allows visitors to feel fully steeped in the history and quality of the brand.

The client also needed photography and videography, with which we provided full-scale creative direction. From directing the photographer on key photos required, to shot-by-shot video planning and direction to create promotional videos, we were able to best communicate the excellence of the brand.
Throughout the website design process we implemented accessible design features, multiple blog styles, a gallery, and custom forms. Additionally, since it had been a while since our clients had their last website created, we took the time to ensure they were educated and up-to-date on modern website practices so that they could feel informed and confident in what we had created.
Services Used
Wordpress Website Build Package
Copywriting
Brand Strategy
Photo and video shoot preparation and creative direction
Since launching, Newport Custom Shutters have been able to maintain brand recognition and bolster their status as premium manufacturers. The clients received fantastic customer feedback on their new website and copy. Today, their customers are able to easily find them on Google and learn about the company and their extensive range of products with ease.

Please note: Since launching this project, the client has hired an external SEO company who added additional html copy to the website. Some layouts and copy elements are not our original design and vision.
INDUSTRY CATEGORY: MANUFACTURING & HOME IMPROVEMENT
SEO DISCLAIMER: You may notice we refer frequently to 'our client' rather than the business name. This is so that we don't impact on the SEO of our clients (we always do our best to protect and ensure they rank well in search engines). What can we say, we love our clients! To find out who they are, simply watch the video above.
---