BUILD YOUR WEBSITE
& BRAND WORKSHOPS
Lunge your online presence to the next level with the self-paced digital marketing
workshops made for DIY-loving eCommerce businesses.
FIRST TO RELEASE "HOW TO GET FOUND ON GOOGLE" WORKSHOP
You're a small business founder.
(So, basically, you're a superhero.)

And you've got NO time to waste when it comes to attracting the attention of your website visitors and guaranteeing they don't leave you for the competition.
Which means you need an intentional brand and a strategic site that helps you succeed.
But unless you've magically acquired a marketing degree overnight (and thousands of hands-on experience), you're stuck in a pickle:
You need to find a way to stand out and succeed online with an intentional brand and website … but you really don't have a clue where to start.
And even if you're doing it yourself, you definitely don't want to do it alone.

But what if making your high-converting brand and website was just as simple as building your buns in your fave HIIT session?


Welcome to the Build Your Website & Brand Workshops: Your place for strengthening your success with short, intensive and action-packed mini-workshop sessions that hold your hand and guide you to your dream website.
No more information overload (or overwhelm), from start-up to scale-up getting the right brand & website guidance can take you from stressed to success!
Whether you're starting your small business from scratch or your existing brand and site hasn't seen love and sweat in a while, these workshop mini sessions are designed to guide you from dreamer to doer with a practical roadmap for fast-tracking your dream online presence.
Each session is self-paced with scheduled live Zoom group meetings so you can check-in, hang out and gain the guidance, friendly advice and support you need to complete your workshop.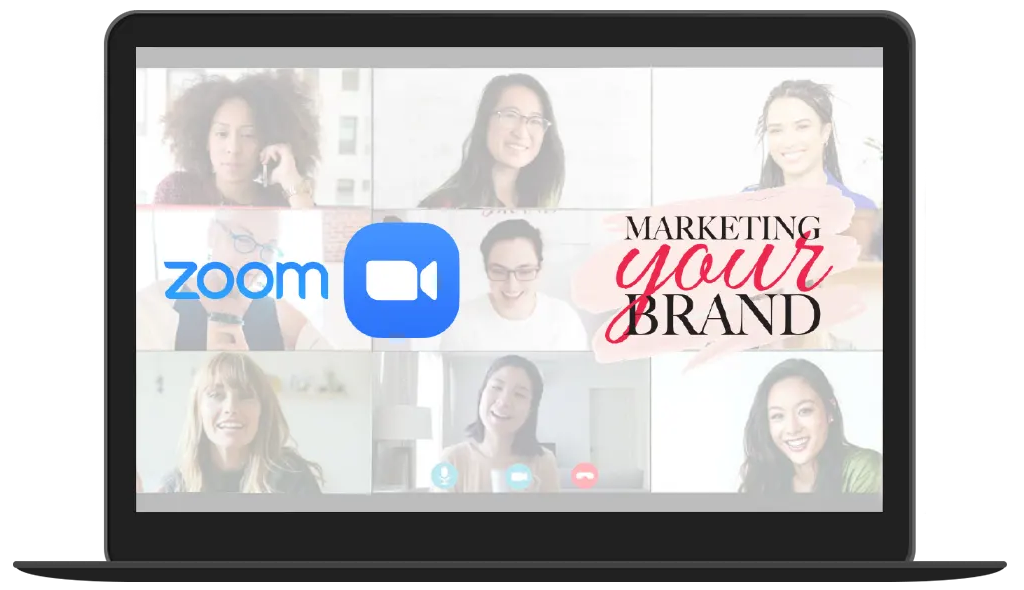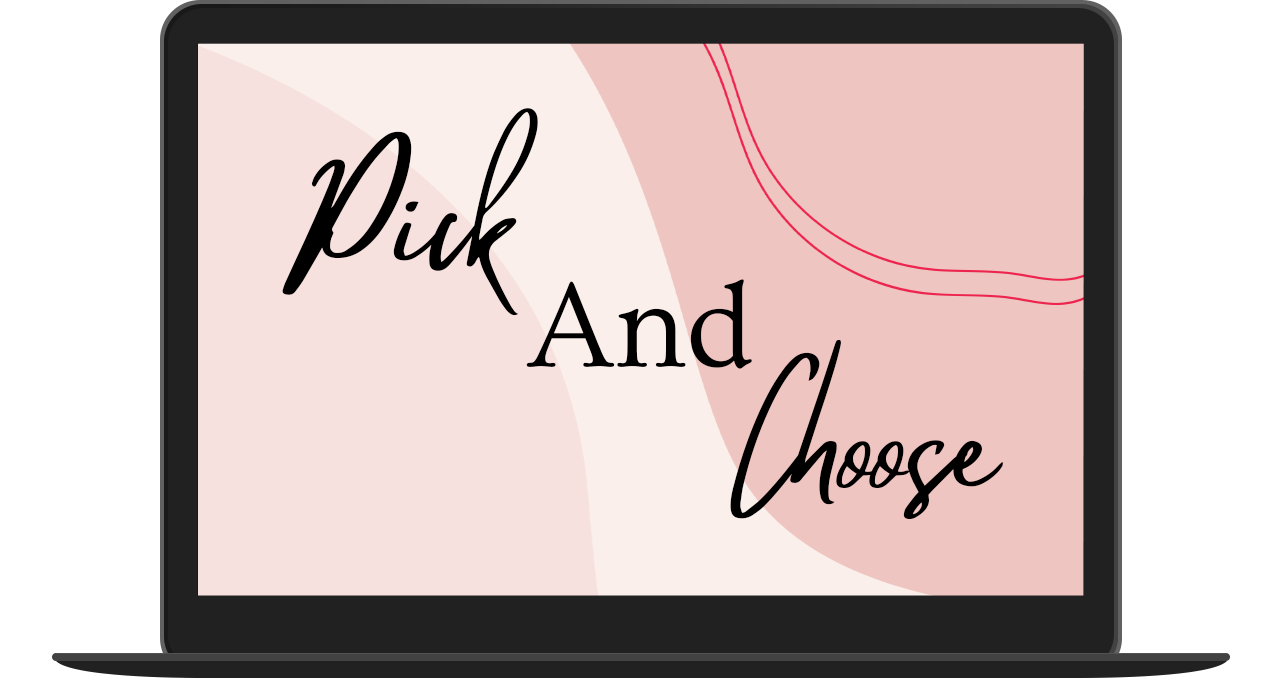 You can pick and choose exactly which sessions will make the most impact in your business. So you can invest in one to boost your brilliance in one specific area, or choose to complete the entire journey at your own pace.
Zoom a Friend – aka connect with Peggy! – at any stage to tap into strategic input and expert support that troubleshoots your challenges and answers your burning brand and website questions.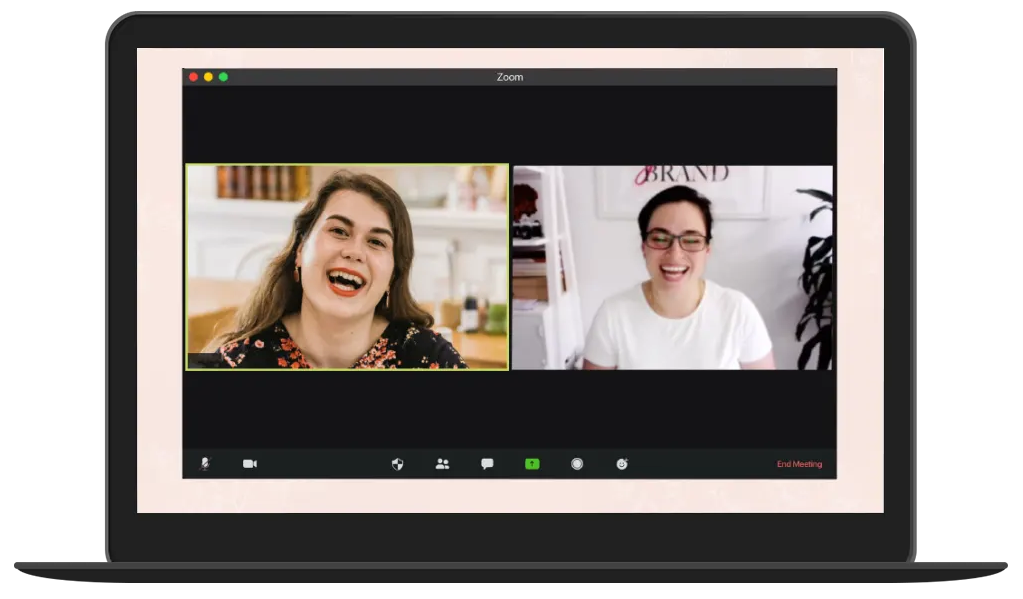 CHOOSE YOUR JOURNEY - The power is in your hands.
Brand and website not working?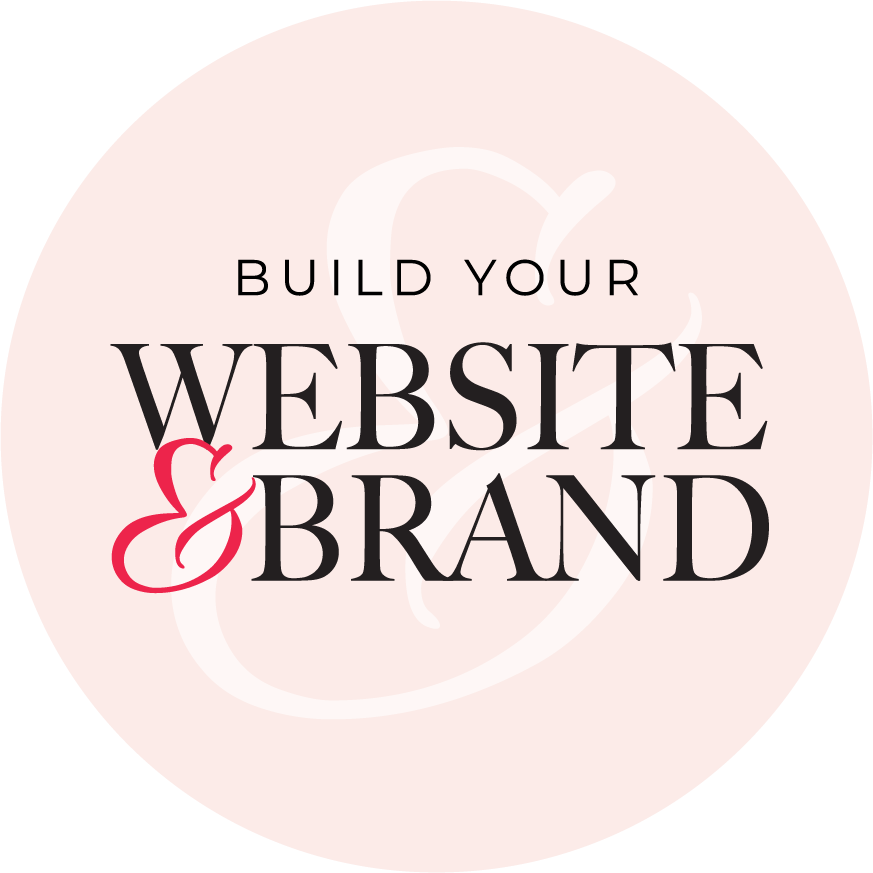 BYO Brand. We'll supply the strategy.
You'll love these sessions if:
You want to be backed up by the ultimate team of professionals that not only hold your hand (and give you high-fives) but also give you the proven action plan you need to achieve your most ambitious goals.
You want to learn the secret strategies professional marketing agencies use so you can launch and sell faster to customers that are more emotionally invested in your business.
You're a small business owner or entrepreneur ready to work ON your business (not just in it) to get your brand and website up and running yourself.
You'd love to feel fully in control of your brand's success and swap DIY drama (where you're wasting hundreds of hours begging strangers on Facebook for help) for crystal clear clarity that sees you building your brand and website with purpose and direction … ten times faster than if you'd attempted it on your own!
You're sick of hiding your business, brand and website in the shadows and want to face your fears (looking at you, HTML, copywriting, graphic and graphic design) to create a brand and website that not only builds a bond and cultivates trust with your target market but also masterfully does its job of converting visitors into leads, bookings and sales.
8 Signs Your Business Needs A Workshop:
| | |
| --- | --- |
| | |
| | Your products only sell when they're on sale (if at all). |
| | Your bounce rate is over 30% and you're consistently attracting the wrong kinds of visitors to your site. |
| | |
| | |
| | |
| --- | --- |
| | |
| | You're running ads but your ROI is less than 200%. |
| | You and your dream clients agree: Your branding sucks. |
| | |
| | Meanwhile, your competitors are doing great and seem to have mastered the art of stealing your sale. |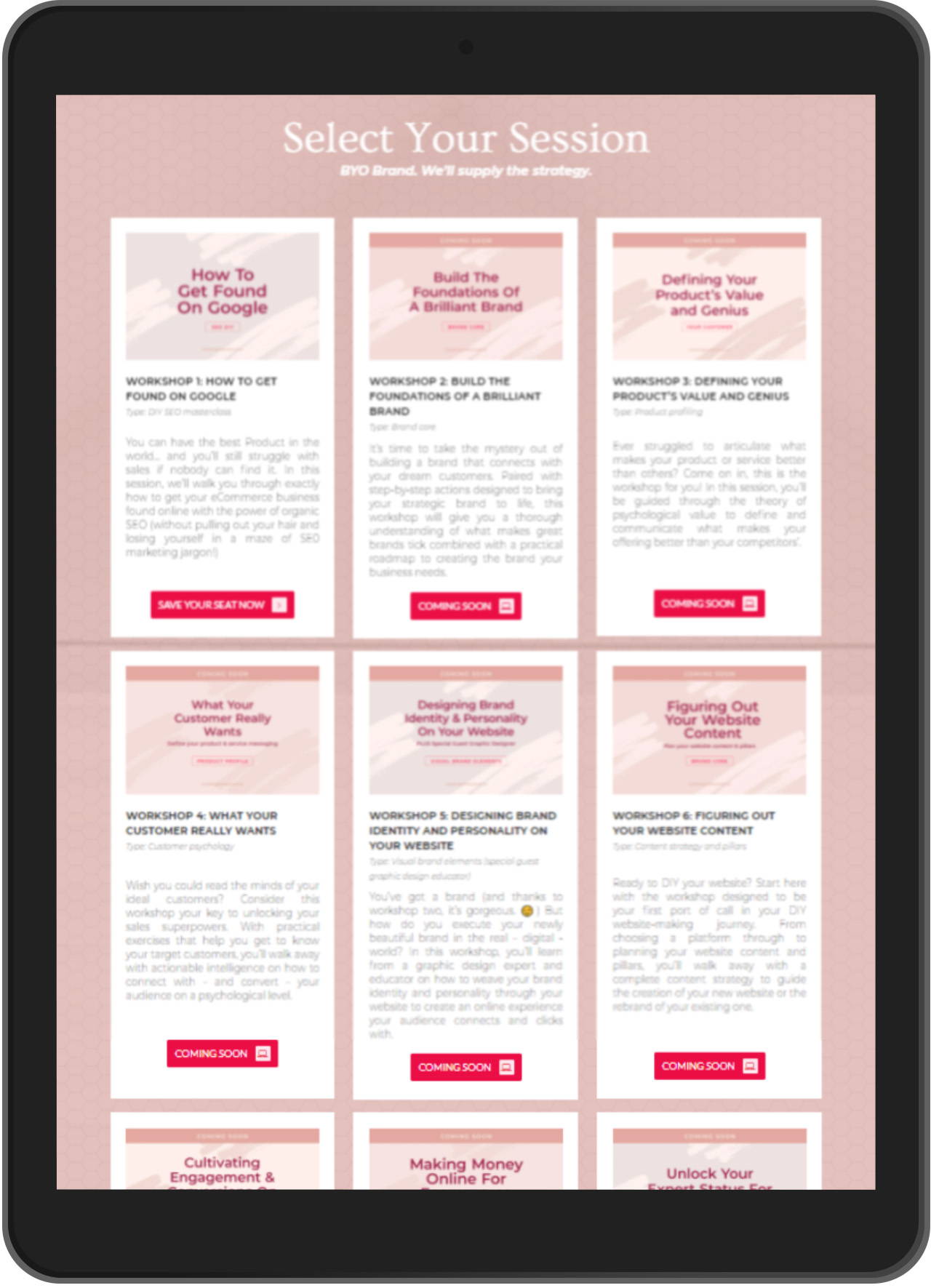 Three to eight short (up to ten minutes – the perfect length to listen on the go or in between chores!) videos deep-diving into your workshop topic.
Companion worksheets and accompanying exercises, best practice checklists and pro resources so you can apply your learnings to your unique business and goals.
Weekly 60-minute live group Zoom sessions so you can get your burning questions answered by Peggy on the spot.
Access to a private Facebook group where Peggy and her guest speakers reply to all your comments and questions, and where you can build your solo-preneur community by meeting others who are doing our workshops with you.
Lifetime access to all future session updates and added resources (so you're always in the know on the latest and greatest ways to succeed!)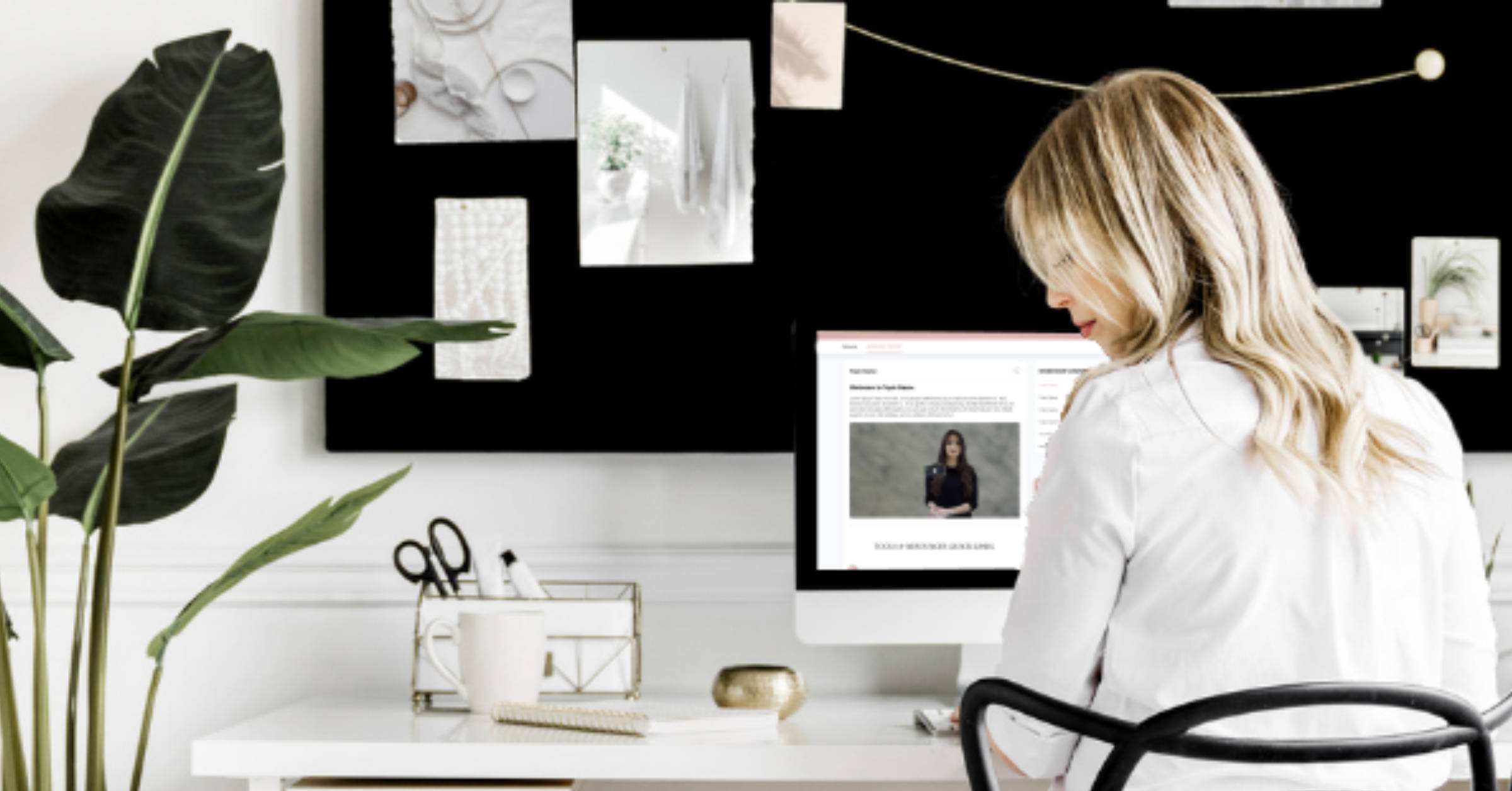 Pre-purchase any three workshops and get a complimentary 10 minute Website Audit by Marketing Your Brand, where our team will give you practical, valuable and actionable feedback on your website (valued at $250 AUD).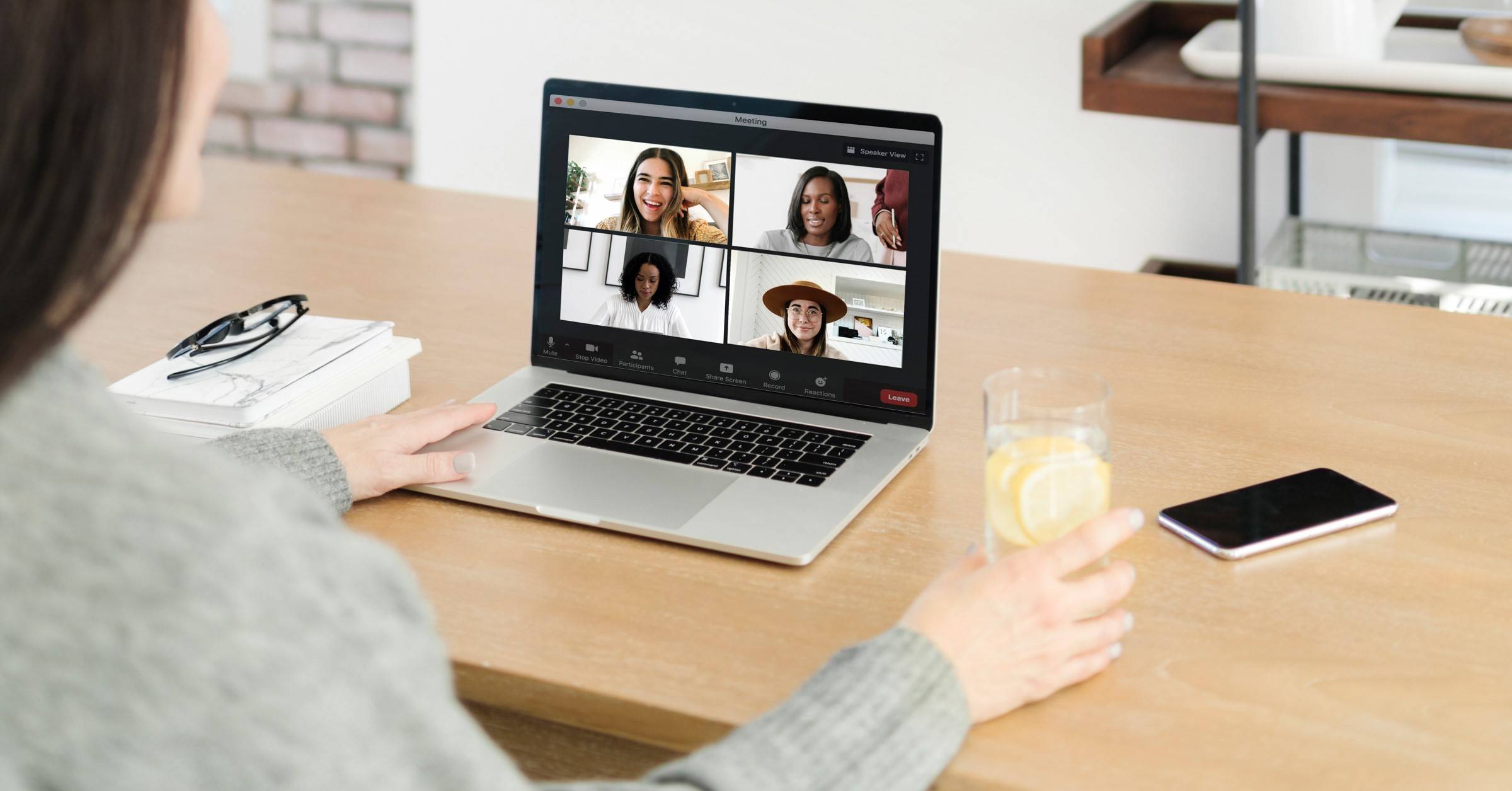 Exclusive discounted access to our one-of-a-kind Zoom a Friend service (where you can get professional on-demand support with HMTL coding, website design, graphic design services, copywriting, and marketing advice to brainstorm, troubleshoot and strategise your success).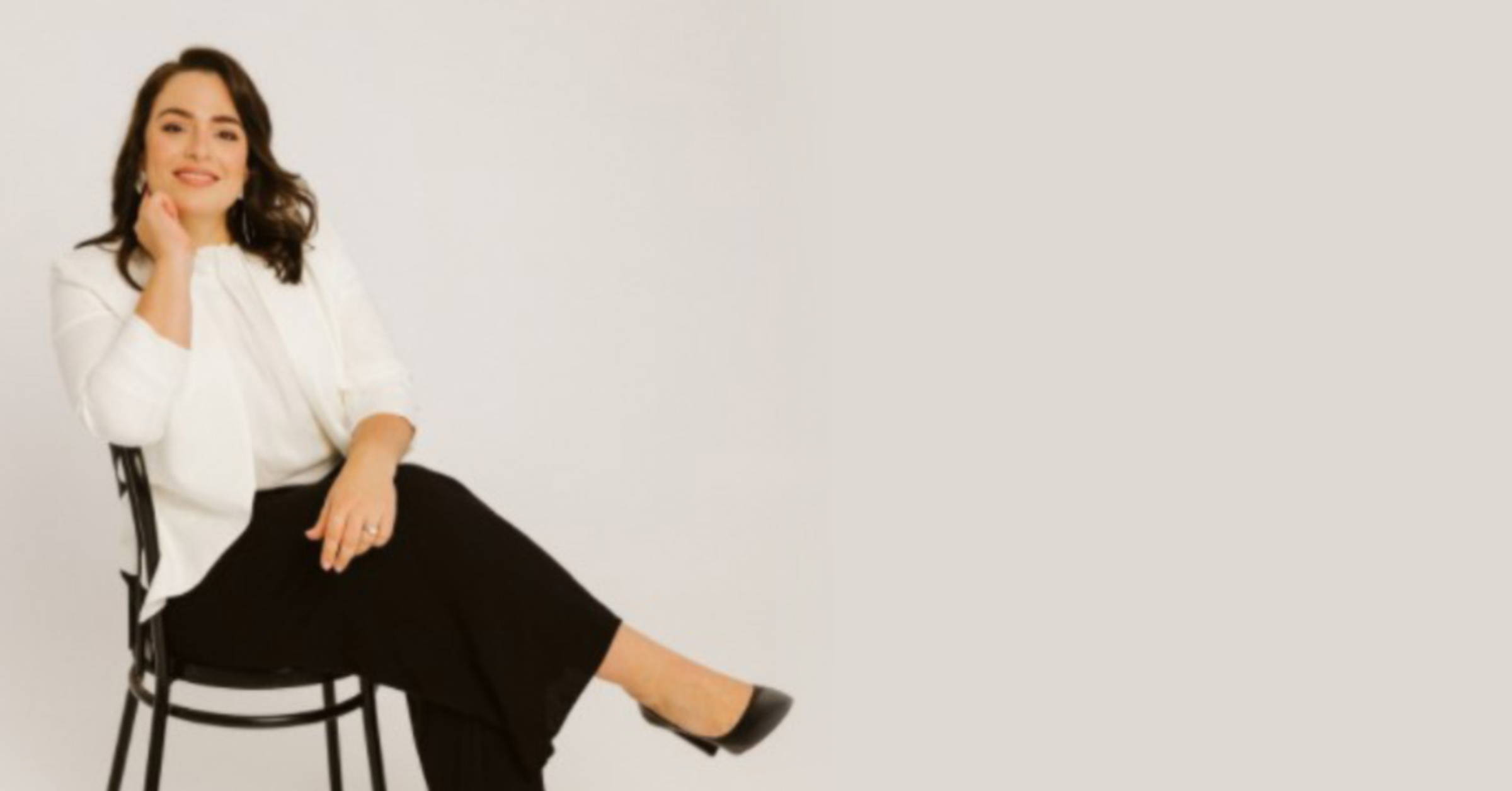 A complimentary one-hour private consult (valued at $220 AUD) for every ten workshop sessions or a complete course you pre-purchase.
We're Proud To Be A Little Different…
Okay, okay, not a little. A lot. Because we know that there's a tonne of information overload – and overwhelm – out there on the Internet. And signing up for a new resource can sometimes feel like a total waste of time.
But here's why our Workshop sessions are – happily – VERY different:
A little less conversation, a little more action​.
We've all taken one of those workshops that felt like listening to Great-Grandpa Joe on a nostalgic rant (where you're mumbling to yourself, "Come on – get to the point already!")
That'll never happen with us. We tell you what you need to know in a simple manner that's easy to understand. You will go from completely clueless straight to the heart of the action as quickly and expertly as possible, so you'll be saying, "Pop the bubbly, I'm done!" by the end of our time together.
Building a polished website and brand (that converts!) is no easy job. After all, if it were, ALL the bright-eyed business hopefuls would be bragging about their conversion-pulling brands and sold-out websites.
But we don't just talk the talk; we walk the walk. As a digital integrated consultancy, our clients expect the best and we deliver done-for-you websites, brands and content that gets tangible results (that our clients really can brag about!).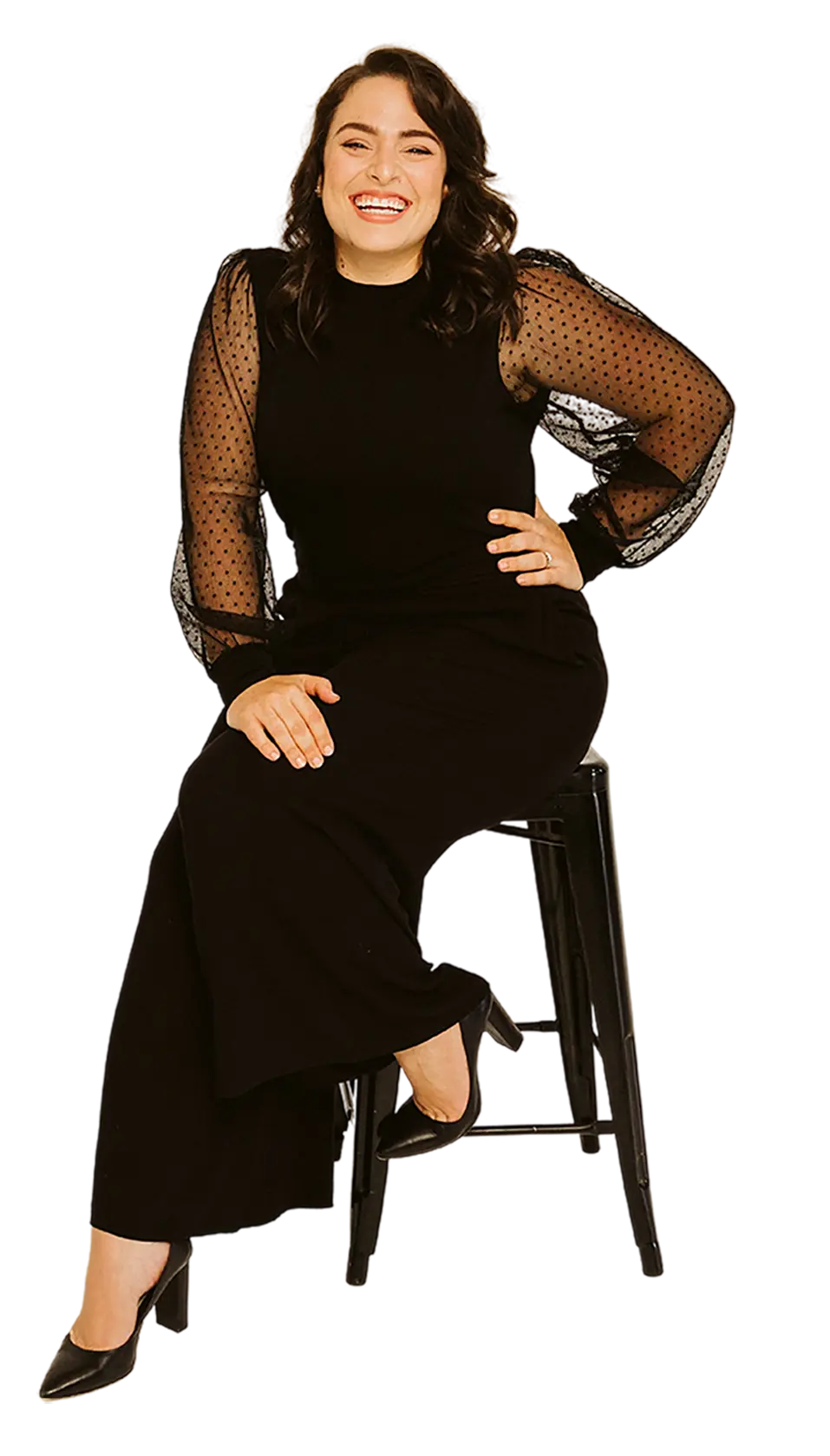 But, the biggest differences...

Everything you need in one place.
Becoming an expert – and bringing your dream website and brand to life - typically means collecting complex and complicated content from all over the online and offline universe then scrapbooking it together to take a stab at success.
With our workshops, there's no need to stay up until 3am researching so that one day you can create your brand and website. We've condensed all the teachable moments you need, simplified tech how-to's, instructions, worksheets, action plans and motivation so you can get excited about building your brand and website TODAY.
You're not doing it alone.
We know DIY can be tricky. Which is why we've made sure you can always get the technical support and practical help you need from our expert team of brand strategists, copywriters, HTML coders and graphic designers.
Simply subscribe to our silver, gold or platinum package and you can Zoom a Friend to connect with the professional help you need to get the results you want.
Prices for hands-on help vary, but there is a package that's suitable for every start-up and scale-up budget. Stand by as we launch these subscriptions soon!
We can finish the job for you.
"But what if I discover I don't have the time, energy, enthusiasm or patience to action your awesome workshops?" We hear you. And the biggest advantage to our workshops – we can help you finish the job!
Uh-huh, you read that right: We can help you every step of the way. If you can't (or don't want to) finish the job, just contact us for a quote or a package and we can complete your logo design, brand strategy plan & build your Shopify or WordPress website. We simply take over to complete your brand and website – no matter where it's at – so you don't have to. ​

(And if that sounds like a big deal, it is. Most agencies only work with projects from scratch.)
Having your website show up in a Google search naturally by working with Google's algorithm isn't fiction, it's real and achievable. Our clients have improved their ranking with a long-term plan of action, and with a little guidance you can too!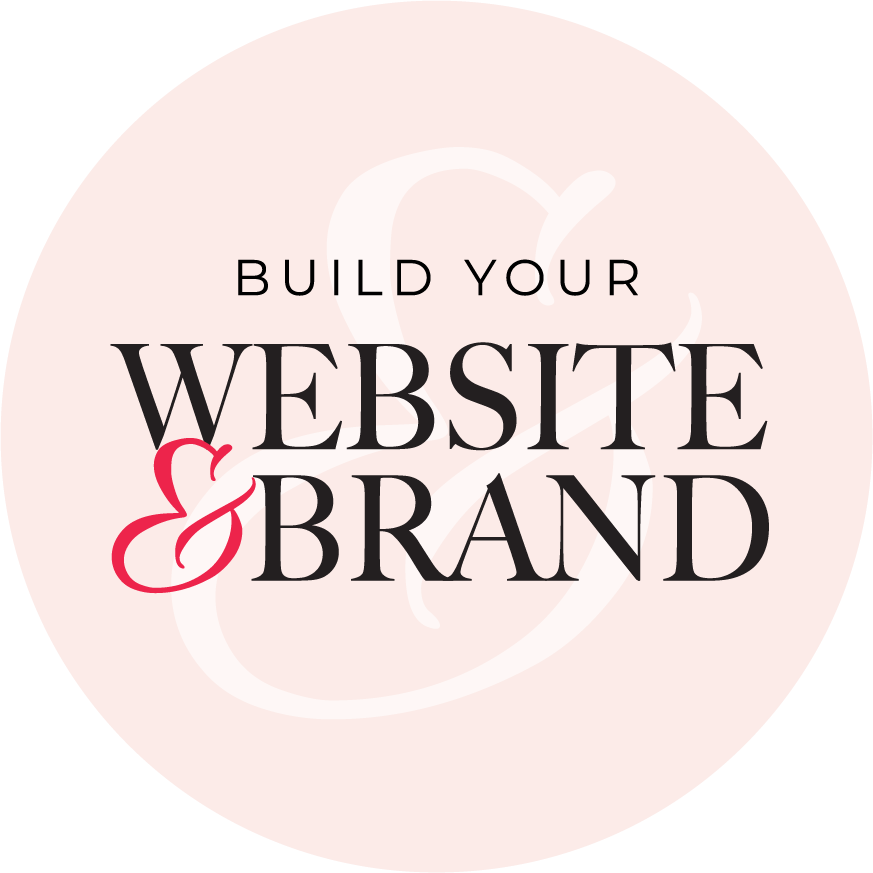 Have a question before you commit?

Get comfy and let's see if we can help!
Who have your Workshop sessions been created for?
The Bootcamp workshops were created for business savvy entrepreneurs, start-up sole-traders, assistants, employees that are stuck "doing it ALL", and businesses that are ready to get their brand basics sorted so they can scale-up and succeed.
HOW MUCH TIME WILL I NEED TO COMPLETE A SESSION?
As much time as you need! You have up to 12 months to access and complete your session, and the time you spend to complete your workshop heavily relies on your goals and what you need to achieve. But pro tip: The time you put in directly correlates to what you get out of it.

As a benchmark, each workshop offers between 3-8 videos (at around ten minutes per video), weekly one-hour live group Q&A sessions on Zoom, a workbook, six exercises and many additional resources and quicklinks. As an average, we suggest allowing one hour of total video viewing for each workshop. You may also wish to go back and rewatch videos or redo the exercises as your business grows and evolves throughout the year.
WHO WILL BE DELIVERING THE SESSIONS?
Bootcamp sessions are delivered by Peggy Worrell, founder of Marketing Your Brand, and her in-house team of website developers, graphic designers and copywriters. Specialised workshop topics may also feature additional guidance or training from special guests and industry experts.
Our sessions are available all year round so that you can work through and refer to them at your own pace. We do not launch/relaunch sessions throughout the year. Instead, we have chosen to use that additional energy to continually expand on the topics and goals of each session with additional videos & resources so that you are 100% satisfied with the workshop content.
HOW LONG DO I HAVE ACCESS TO THE SESSIONS FOR?
You'll have access to your session for a full year after purchase. And if you choose to purchase all 12 sessions (phwoar – go get 'em!), you'll unlock lifetime access to all 12 sessions
However, keep in mind that your lifetime access only applies if you pre-purchase the entire 12 sessions from the beginning. Please note: This does not include our Create With Canva Course. Learn more about it here.
I WANT TO BUILD A WEBSITE ON SQUARESPACE/SHOWIT/WEEBLY/WIX (ANYTHING OTHER THAN SHOPIFY AND WORDPRESS). ARE THESE SESSIONS FOR ME?OR
At the moment, no. We specialise in Shopify and WordPress websites only. You can apply strategies and skills learned to other platforms but we heavily focus on Shopify & Wordpress for their ease of use and flexibility.
DO I NEED ANY PRIOR KNOWLEDGE TO COMPLETE THE SESSIONS?
Nope. Each session is designed to take you from clueless to in control (although it wouldn't hurt to have a basic idea of the topic you've signed up for).
And if you're keen to learn more about your chosen session, you'll love that we've included optional additional reading with our recommended free resources and other external links you can take advantage of.
You may choose to read these prior to watching the video tutorials as they may help you in understanding concepts and applying the exercises to your business.
WHAT'S YOUR REFUND POLICY?
Due to the digital workshop's high-value nature, we cannot offer refunds. However, if you are unsatisfied with the session you have selected, please contact us so that we may rectify the situation and assign you to an alternative workshop of the same value. Please note you only have 24 hours to notify us that you are unhappy with your workshop.
LEARN AT YOUR OWN PACE: You get lifetime access to your session once it is purchased. Workshops may be continually updated with new resources, exercises and reading as we continue best practice teachings. You may log into your portal at any time and learn at your own pace.
HOW IS EACH SESSION DELIVERED?
Depending on which one or how many sessions you join, each workshop is delivered from within your portal. Simply login to view all the videos within the session, download the workbooks, do the exercises, and gain access to the recommended additional resources or readings. If you have purchased more than one workshop, all the workshops you have purchased will be displayed and linked from within your portal login.
I DON'T HAVE AN ECOMMERCE BUSINESS – CAN I STILL ATTEND THESE SESSIONS?
Absolutely! The exercises, principles and strategies discussed apply to both product-based eCommerce owners and service-based providers.
Essentially, if you plan on owning a website or want to develop a brand to represent you in a professional way, these workshops are for you. Please note: These workshops do have a heavy focus on building brands and websites for commercial appeal and purposes.
ARE THERE ANY LIVE OR IN-PERSON ELEMENTS I NEED TO KNOW ABOUT?
Absolutely! The exercises, principles and strategies discussed apply to both product-based eCommerce owners and service-based providers.
Essentially, if you plan on owning a website or want to develop a brand to represent you in a professional way, these workshops are for you. Please note: These workshops do have a heavy focus on building brands and websites for commercial appeal and purposes.
Then we'll be here to help you get un-stuck with Zoom a Friend. This service unlocks your ability to book private one-to-one hands-on help with an expert via Zoom. During your private Zoom call, we can provide a higher level of hands-on assistance with remote control access of your computer for troubleshooting, or other in-house services such as HMTL coding assistance, website design, graphic design services, marketing advice, strategy and planning or copywriting. These come at an extra pre-paid hourly fee and are 100% optional. Please view more here.